The Ruggero 1 Group Compact Coffee Machine is an extremely reliable and stylish espresso machine that rivals its more expensive competitors. This compact unit is perfect for those who lack the space for a full sized commercial machine.
Compact automatic espresso coffee machine with 1 group, electronic switchboard to control the coffee dosages volumetrically, with automatic water filling and copper boiler with 6 litres capacity with heat exchanger per group. One steam tap (stainless steel) and one hot water tap.
Custom hand built machine to order, your colour, your sign. This machine comes standard with the traditional Crema Cafe light box sign and the colour must be selected when ordered. The body can be painted in any automotive paint colour available in Australia. A real winner with the professional barista.
Product Code :
Expobar Ruggero 1 Group Standard
(Product Code: 01800120)
Expobar Ruggero 1 Group High Group
          (Product Code: 01800124)
Technical Specifications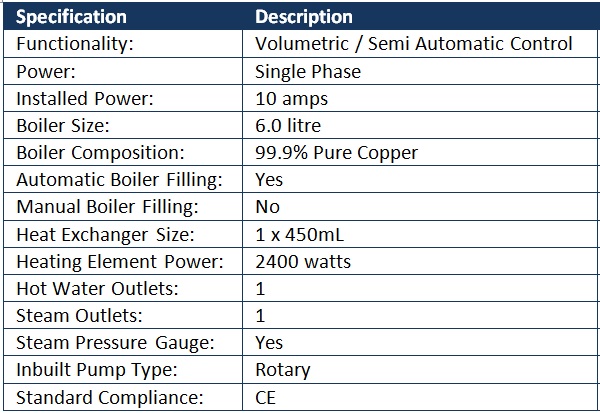 Key Features