The Expobar Ruggero Leva is a domestic coffee machine with a classic stainless steel body. This coffee machine is designed for the office or high end domestic use.
The Expobar Ruggero Leva employs sturdy commercial components from a world famous espresso machine line.
With traditional styling, compact size and commercial componentry, this domestic espresso machine makes this a leading competitor in the home espresso machine market. With eye catching styling, this is strong and elegant.
Custom hand built machine to order, your colour, your sign. This machine comes standard with the traditional Crema Cafe light box sign and the colour must be selected when ordered. The body can be painted in any automotive paint colour available in Australia.
Packed with commercial grade features the Expobar Ruggero Leva is a true heat exchanger espresso machine. With the 1.5 litre copper boiler, powered by a 2000 watt element and the thermosiphon heat exchanger, this machine has no problem extracting the perfect espresso and texturing 'silky' milk simultaneously.
Product Code :
The product code is 01600114. All Key Features and Technical Specifications outlined above relate to this product only.
Technical Specifications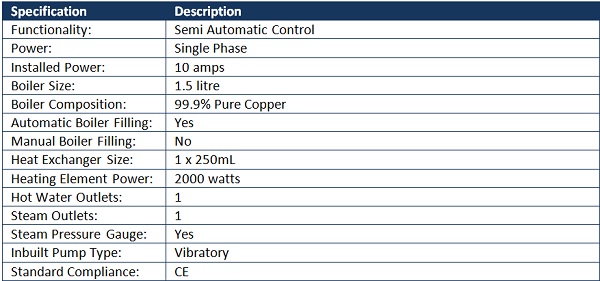 Key Features