The Expobar Ruggero Barista Minore IV is a domestic espresso machine, ideal for the home, office or catering for large parties.
With traditional styling, compact size and commercial componentry, this domestic espresso machine makes this a leading competitor in the home espresso machine market. With eye catching styling, this is strong and elegant.
Custom hand built machine to order, your colour, your sign. This machine comes standard with the traditional Crema Cafe light box sign and the colour must be selected when ordered. The body can be painted in any automotive paint colour available in Australia.
The EB-61 commercial group provides mechanical pre-infusion and is directly connected to a 1.5 litre copper boiler that is controlled by P.I.D  that maintains temperature stability.
Dual boilers allow the Expobar Ruggero Barista Minore IV to simultaneously produce espresso shot after shot and steam instantly. This saves time and eliminates the need to wait for the boiler to 'recover' between espresso brewing and milk heating.
Product Code :
The product code is 01600118 (not plumbed in). All Key Features and Technical Specifications outlined above relate to this product only.
Technical Specifications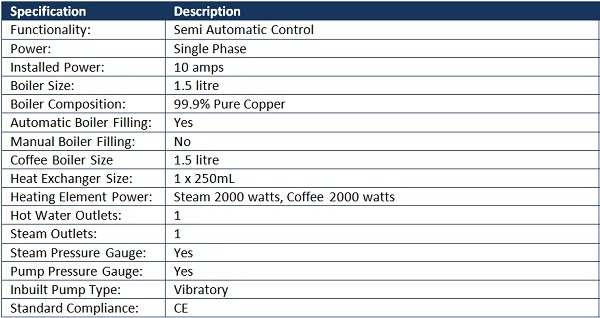 Key Features