The Expobar Office Semi Automatic espresso is a domestic coffee machine which is exceptionally reliable but compact. This espresso machine is ideal for home, office or entertaining.
In no time at all the Expobar Office Semi Automatic makes lattes, espressos, cappuccinos and much more for you and your guests.
The body is stainless steel and encases a 1.5 litre copper boiler which is powered by a 2000 Watt element that allows you to simultaneously extract espresso and texture silky milk for the perfect espresso. Other outstanding features on this coffee machine are thermosiphon heat exchangers, direct pre-infusion and commercial grade steam tube and hot water outlet.
With professional components like this, there is no doubt that the Expobar Office Semi Automatic is the perfect choice for the home or office.
Product Code :
The product code is 01600102. All Key Features and Technical Specifications outlined above relate to this product only.
Technical Specifications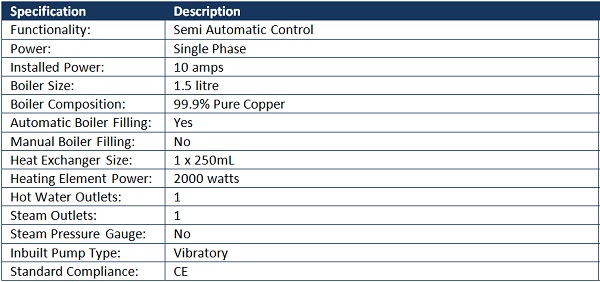 Key Features