The Carat Eco 2 Group Coffee Machine, with innovative design and technology and an eye catching machine with genuine quality.
Being one of the markets most energy efficient espresso machines the Carat Eco is fully adapted to modern environmental requirements as well as each and everyone's interest in a clean and healthy lifestyle. Carat Eco automatically learns how you use it and it adapts its energy consumption after that.
In this way the machine is always ready when you need it and when you are not using it is automatically switching to energy saving mode. Good for both the environment and your wallet.
With temperature control of the boiler including PID technology for precise temperature control, shot timers to keep track of extraction, display clock, grinder adjustment alarms, total brewed coffee counter, service cycle alarms and  pre-infusion control, its a head of most of its competitors.
Product Code :
Carat Eco 2 Group Black Coffee Machine
(Product Code: 01410234B)
Technical Specifications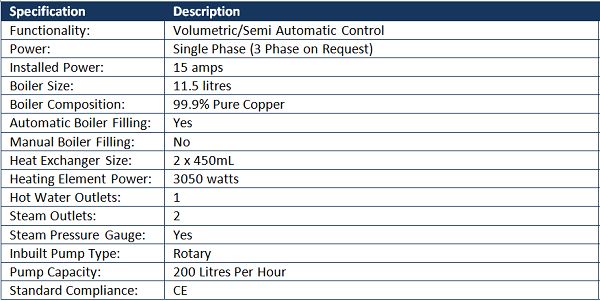 Key Features